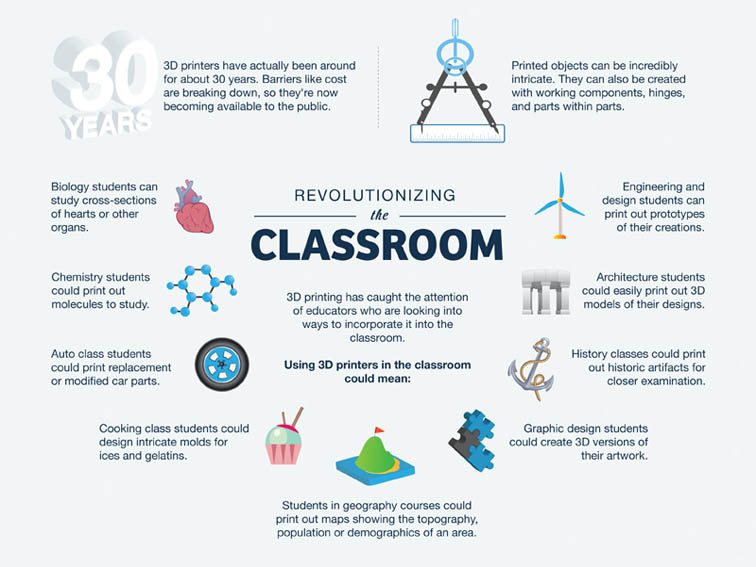 Image from: TeachThought
I am fully obsessed with 3D printing. I was first introduced to the idea from an art/architecture aspect but 3D can be used in each subject of a well rounded curriculum. Here are some ways teachers can incorporate 3D printing into Math and Science lessons (9 Amazing Ways to Use 3D Printing to teach Math and Science– We Are Teachers). While makerspaces and maker culture may not be a new phenomenon (That infographic says 3D printing has been around for 30 years, what?), makerspaces are definitely beneficial to have in schools and libraries because they fosters collaboration, creativity, curiosity, and a love of tech. What are makerspaces? Scholastic helps answer that question, and why you should care, here and Huffpost answers it here. Most of my classes in the library and Information science program at USC, focus on breaking stereotypes of libraries. No longer just storage spaces for books, with librarians shushing and glaring over their tortoiseshell glasses; Libraries are a quickly becoming a means of discovery of all information literacy and technology. "Libraries and museums are being turned into "Makerspaces," physical locations where people can come together to make (HuffPost)" Moveable furniture, interactive spaces, and new technologies are making both public and school libraries loud and fun informational spaces.
A Librarian's Guide to Makerspaces: 16 resources – Open Education Database
Open Education Database is a great resource for school librarians, faculty, and staff to read up on new concepts, approaches, and technology for school facilities or curriculum. It's all encompassing. This particular link I found super helpful because it's a collection of articles and blog posts that not only describe maker culture, introduce the concept of MakerFaires, and highlight what certain libraries/librarians are doing with makerspaces, But  this collection of resources also encourage school librarians to take a tech leadership role and bring maker spaces to their libraries and schools if they have not already done so.
Extra Resources for more information:
An All-In-One Guide to Maker Culture and 3D Printing -Open Education Database
Why I Use 3D Printing in the Classroom, and You Should Too– Ultimaker
Growing Learning Communities Through School Libraries and Makerspaces-Creating, Constructing, Collaborating, Contributing– The Unquiet Librarian